Generating loyal demand and sales for your business is top priority. Without brand love and the subsequent revenue, your business will fail. It's as simple as that.
To ensure your success in business, I'm going to reveal seven awesome demand generation secrets you can begin to use right now to help you capture tonnes of solid brand interest, loyalty and sales.
Before we start – a quick note on the difference between the often confused demand generation and lead generation terms…
Demand generation usually involves giving away content freely in order to build awareness and drive direct sales.
Lead generation
usually means placing content behind a 'gate' to encourage email and data capture for longer-term nurturing.
Both practices hold the potential to drive brand interest, leads and sales – it's how they are deployed that makes them different.
The key to an effective demand generation campaign is focusing on your marketing reach and the resulting conversions.
You need to effectively measure your results to report how well your demand strategy is working.
[newsletter_lock]
"40% of companies not achieving their revenue goals didn't know their click-through rate…90% more than those exceeding their revenue goals."
That said – here are the promised secrets to demand gen domination:
#1: Give Away Amazing Material. For Free!
I chose to reveal this strategy first because many of the other secrets on this list point right back to this one – at the very core of demand generation.
When it comes to demand gen and enticing sales, value is king.
When they read your content or watch your videos, you want people to think, "Are they really giving this away for free..!? This brand is absolutely amazing!"
As an example: The SumoMe team do this extremely well. In fact, they regularly receive devoted comments like these: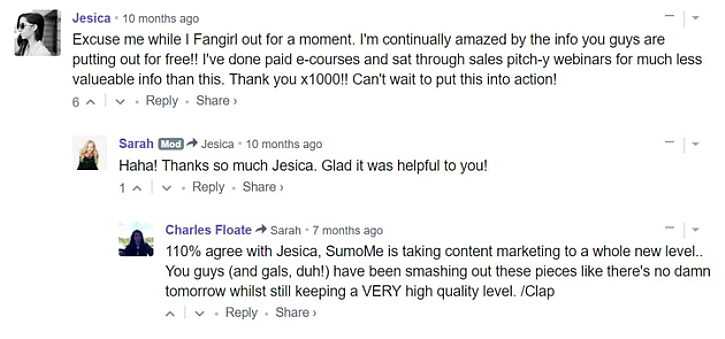 So,
take some of your best material and just give it away
. Sounds crazy, right? Put your knowledge down on paper (or in most cases, via your keyboard) and send it to your target demographics.
Show these people they deserve it and they'll become die-hard fans through your generosity.
BONUS TIP: A keyboard isn't your only tool! People love swag. Direct mail is back from the dead and you can send your prospects (even existing customers) some unexpected branded treats through the post. Think outside the box! Your competitors probably won't be doing this.
#2 Partner With Relevant, Respected Influencers
When it comes to influencer marketing, nothing beats partnering with those who already hold a large, loyal, highly-engaged following who are also likely to be interested in your brand.
Of course, it's not as simple as sending Neil Patel an email and all of a sudden you're on a webinar together. Influencer marketing and relationship-building takes time – so start today.
Here are a few tips to begin forming those relationships:
Follow your newly discovered targets on all social media platforms
Genuinely engage with these people over a long period of time – comment on their blog or respond to tweets and let them know how helpful you found their material to be
Share their content and rave about it (but be wholly sincere)
Above all else, just be curious and helpful. As a business owner or marketer, you know how great it feels when people actually engage with you. Give that feeling to influencers and you'll begin to appear brightly on their radar. From there, the possibilities are endless…
The bottom line: Get in front of influencers as much as possible.
Chances are, the mere-exposure effect (aka "familiarity principle") will kick in and they'll begin to like you just by seeing your face so much.
John Lee Dumas from EOfire does this brilliantly. He built his entire business by interviewing top entrepreneurs like Tony Robbins, Amy Porterfield, and thousands of others…

#3: Only Create Exceptional Content
Content marketing is a major player in modern online marketing – and one of the most promising methods to generate loyal demand.
"Content creation is a top investment for 43% of information technology companies…54% more than other industries."
Unfortunately, many businesses are still going about it completely the wrong way. They believe that by consistently throwing up a blog post every week (just to get one out) will grow love for their brand.
Here's the caveat with content marketing:
In order to be effective, your content must be consistently remarkable and provide real value.
Last-minute posts and weak content published in a hurry won't help you generate any demand or excitement for your products or services. In fact, it can even have the opposite effect!
This loops right back to my first point about giving away your most valuable material – it's all about deploying regular, superior content. The team at Buffer do this particularly well…here's a post they published that breaks down exactly how they write their blog posts:

Not sure what to write about? Try
conducting industry research using smart data
to hyper-target your content – this ensures your audience gets exactly what they want.

#4: Optimise Your Email Marketing…And Run Competitions
It's been around a long time and despite some speculation – email marketing is still as strong today as it ever has been.
Although it presents a degree of crossover with lead generation – email marketing is immensely powerful for demand gen, loyalty, reminding drop-offs to buy…and repeated upsells thereafter.
Now, buying cold email lists is probably not the best way to utilise email for demand generation – if you want a rapid, brand-boosting, email list-building technique that caters for your demand and lead generation campaigns…try running a user-centric social competition with tools like Gleam.io, Get Ambassador and Viral Sweep.
Socially-focused competitions will get you TONNES of attention and fresh emails to nurture. They are a way to feed two birds with one stone!
The most valuable characteristic of email marketing is that it's the only channel entirely in your hands – Facebook and Twitter can change at any time and ruin the list of followers you've spent all that time building…but you'll always have control of your email list and you can leverage social media to create it.
Just bear in mind that not all emails are created equal. Subtle changes can make a huge difference, like changing your call-to-action (CTA) copy:
A/B testing your email marketing uncovers shocking stats like this:
"Transactional emails have 8x more opens and clicks than any other type of email and can generate 6x more revenue."
You can of course, test a whole variety of other tweaks:
Subject line
Layout
Personalisation (this is huge for loyalty – always be personal)
Headline
Body text
Images / videos
The good news? Most marketing and email automation service providers have A/B functionality built-in to make our lives easier.
#5: Offer Test Runs Of Your Product Or Service
What better way to generate widespread demand than by providing a sneak peek at your offerings?
A cleverly-limited testing area helps in four key ways:
People experience the power of your product or service and see if it's useful to them
Limits on usage create a sense of intrigue and leave visitors wanting much more
They'll feel inclined to share the news with others, even if they can't afford it or aren't ready to buy yet
They feel like they are already part of your brand experience – a powerful ingredient in the making of loyal ambassadors
The team at SEMrush apply this technique and they've no doubt acquired many new customers using this method.

#6: Create A 100% Free Tool
Everyone loves free stuff, especially when it's useful for business!
Creating a non-paid tool is an outstanding way to capture interest and acquire custom while providing lots of free value (see point one – again).
One of the finest examples of this is CoSchedule's Headline Analyzer: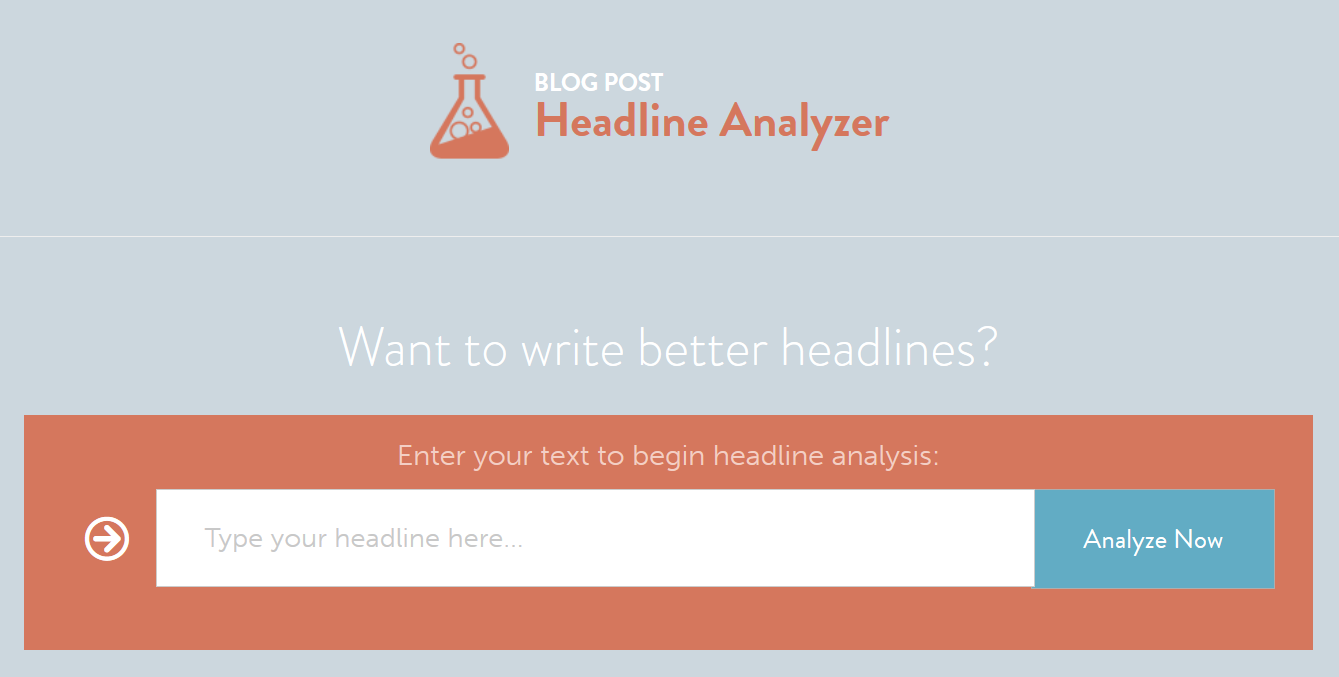 However, producing a tool like this isn't cheap or quick.
It requires hiring a developer and possibly even a designer. Unless you can do it all yourself, of course – but then it needs substantial time and energy investment which takes you away from other critical areas of your business.
That said – the long-term value of creating a tool like this is far greater than the money you'll spend creating it. It deserves a firm place in your demand generation strategy!
#7: Start Using Social Media The Right Way
Yes. I had no choice but to include this as a secret! Why?
Because still many businesses use social media as a promotional broadcasting tool and only apply it when sharing their products, services, deals and content…
However, social media isn't meant for this. If it was, it would just be called media! People won't engage with you if you use it this way.
With almost 50% of marketers unsure how to drive business through social media in 2016, it could be time to switch up your social strategy…and there's no time like the present.
This reverse logic may come as a surprise: To gain sales from social media, you must be unquestionably social.
"77% of Twitter users feel more positive about a brand when their Tweet has been replied to."
Being social may sound obvious, but it really means you should:
Interact with your followers at every opportunity. Ask them questions and answer theirs
Be human. Be fun! Share a few memes and GIFs once in awhile
Tag relevant people from your audience in posts to maximise their reach
Share your followers' content and go to the ends of the earth to make them feel special
Forget continuous sales promo or corporate speak – these are outdated characteristics
Referring back to the Buffer team – they love being social and are always first to mind because of this trait. Granted, their platform is all about social…but they are masters of non-corporate interaction and serve as a dazzling example for brands: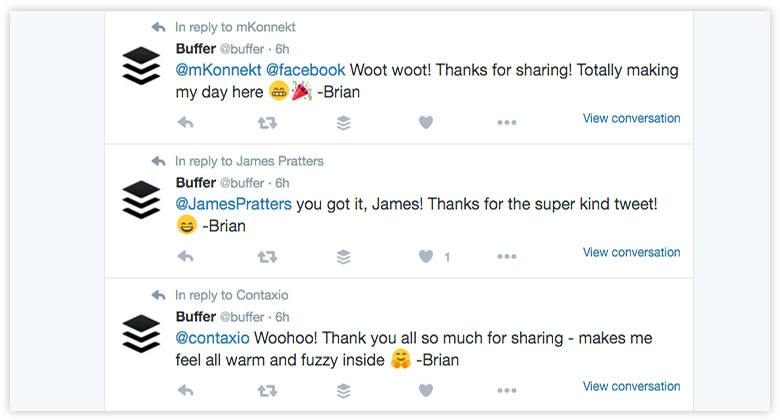 Bringing It All Together
Whether you're a demand-generating guru or you're just starting out on this new journey – the above seven tactics are sure to bring you repeat sales and rock-solid brand loyalty.
I'm sure you're wondering, "What's next?"
Well, throughout any demand gen process it's important to score all your website visitors to determine which of those may become leads.
Once you've captured the loyal interest (and data) of your target audience, the next step is to continue nurturing them to ensure maximum, ongoing conversions.
In the end, what matters most is providing a tonne of value to your visitors. Value generates demand and transforms traffic into paying customers.
[/newsletter_lock]