p{text-align:justify;}

We are experiencing a monumental shift in B2B marketing trends. It's 2017 – the pace of change in technology, customer expectations and selling techniques can be tough to comprehend, let alone conquer…Marketers and their brands are under ever-increasing pressure to deliver timely experiences that outsmart huge amounts of competition – attracting and retaining clientele, while also achieving a positive ROI.
It's tough, no doubt.
An endless amount of 'B2B trends' articles stuffed with complex words and jargon aren't going to help anyone, so I thought I'd do something about that.
Let's dive into the most important tech and marketing tactics that any B2B marketing team should be adopting this year…minus any fluff.
Trend #1: Customer Experience Is Everything
In a world full of choice, customers are able to easily switch brands if they feel anything less than delighted with their experience. And half the time, they will switch!
Customers want value, dedication and personalization…and they want it immediately.
style>
Take it from the horse's mouth. In this case, it's
Zendesk
:
52% stop buying after a bad customer service interaction
40% of customers switch loyalty because a competitor offers better customer service
95% of customers tell others about a bad experience
And that's not all…
Accenture drive home the importance of personal experiences:
[newsletter_lock]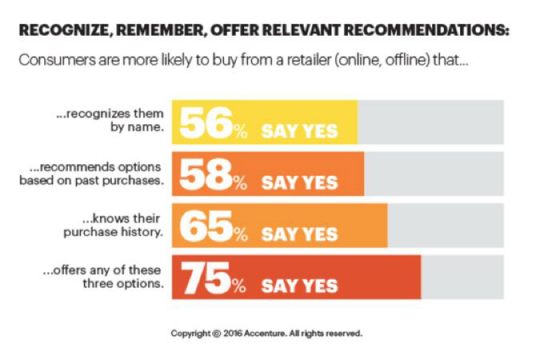 Despite the shocking stats, only
23% of B2B marketers
structure their organizations around the customer!
In 2017, B2B brands need to be providing a seamless experience that not only supports, but elates customers at every stage of their journey.
Make your customers feel special. In return, you will gain their loyalty and reduce churn.
Fully understand your audience and their behaviours
Optimize the buyer journey across all devices and channels
Constantly gain feedback, then analyze + optimize
Personalize experiences
Be conversational, not robotic
Ensure consistent branding
Acquire the freshest tech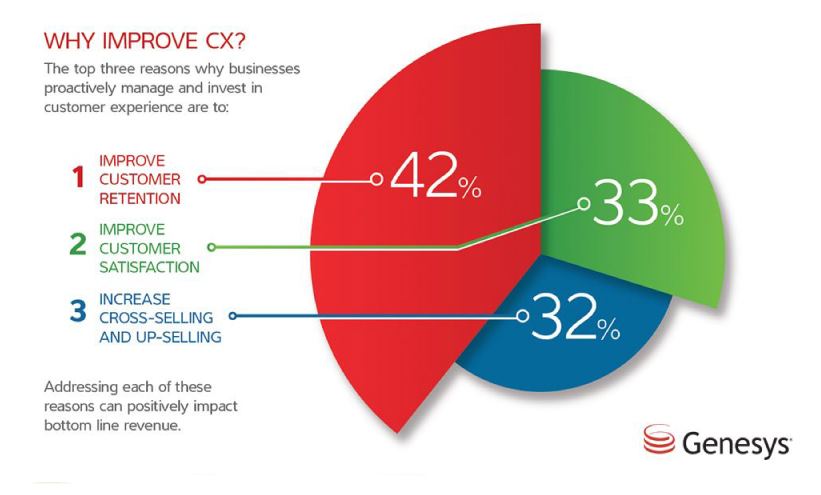 Trend #2: Uptake Of Account Based Marketing
By targeting only the most promising prospects, you avoid wasting heaps of money on 'leads' that are unlikely to buy.
Sounds like a solid strategy for 2017, right?
It certainly is.
Reports indicate more than 60% of B2B marketers plan to implement an ABM program within the next year.
Typical B2B marketing is spray and pray compared to Account Based Marketing (ABM).
Instead of a large net flung aimlessly over the entire sea, ABM is like launching a laser-targeted harpoon to catch the prize fish.
Check out the flipped sales funnel: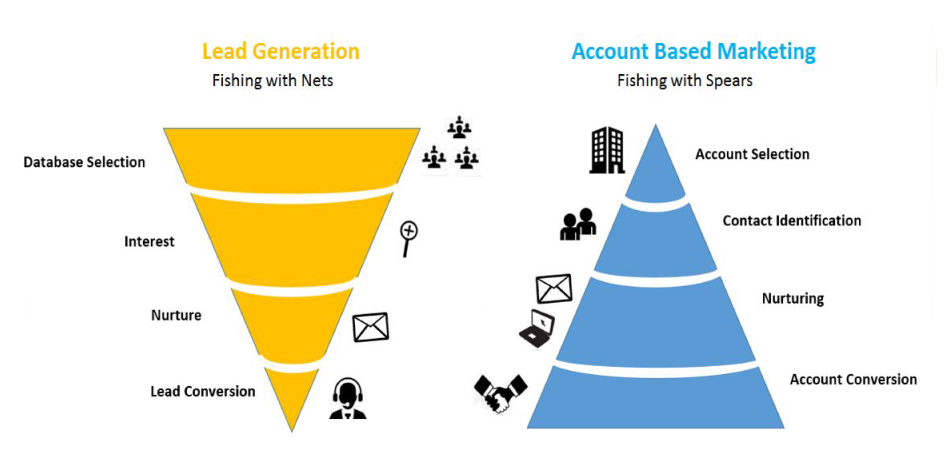 Account Based Marketing improves efficiency and has the capacity to achieve far greater ROI than any other B2B marketing method.
80% of marketers successfully measuring ROI say ABM is outperforming other marketing campaigns.
And that's not all…
84% say ABM plays a major role in retaining and escalating client relationships.
Yet, it's a technique that seems to be widely misunderstood and under-utilised by many.
See my piece here, if you want to know exactly how to launch an Account Based Marketing strategy.
Trend #3: Greater Reliance On Content Marketing
It's no secret. Content is the foundation of many a successful B2B marketing strategy.
It attracts, convinces and converts while forging trust along the way – which is why there's so much of it being marketed.
88% of B2B marketers use content marketing to drive sales and 39% have plans to increase budgets for content this year onward…with 70% looking to deploy more content in 2017 alone!
These stats present hefty numbers, which means fierce competition.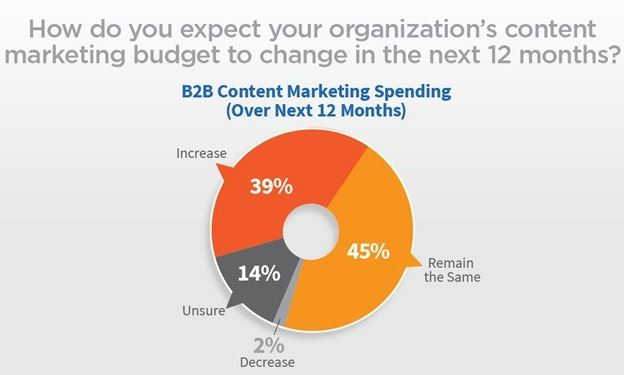 To rise above noise this year, you must create exceptional content that aligns with a data-driven strategy. Think about diversification – introduce videos, podcasts, virtual reality, infographics, eBooks, games, quizzes, tools and much more.
Creativity is imperative for B2B content that can sometimes become a drone for audiences.
While we're on the topic of content:

Trend #4: Video Strategies Surge
Yes, people still love to read – but video is only getting bigger due to its personal feel and of course, the fact visual content requires little effort to digest.
Dr. James McQuivey estimates that one minute of video is equal to 1.8 million words!
Here are a couple more key video stats from B2B content masters, Hubspot:
– YouTube mobile viewership increases by 100% every year
– 50% of company execs seek more information after noticing a product or service in video content
In addition, a study showed that using video on landing pages can increase conversion rates by 80%.
However, it's not only recorded video that's rising up the ranks of content marketing. A staggering 81% of internet and mobile audiences watched more live video in 2016 than in 2015.
B2B marketers – it's time to adapt to trends. Begin creating a mixture of live and recorded video for your audiences in 2017. I've certainly placed it in my agenda.
A study from Cisco predicts that by 2020, video will account for an astounding 75% of all mobile traffic.
Here's a snapshot report from Ooyalato back that up: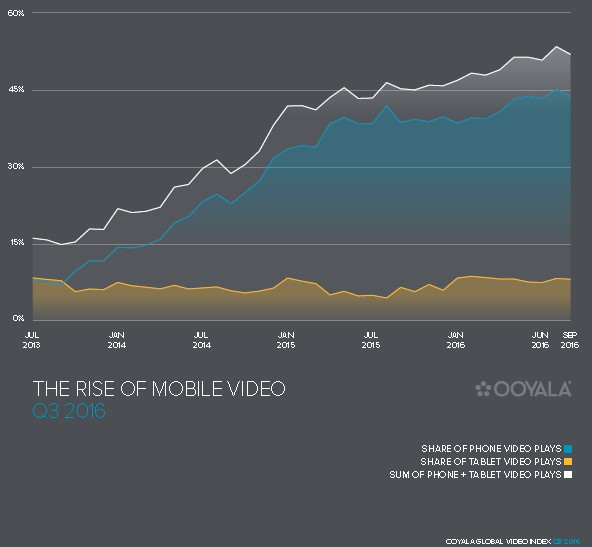 When producing video content – keep it authentic, unique and deploy it on the most relevant channels. For example, blend off-the-cuff live video from the personal brands of employees with professional, company-branded videos that have been carefully planned.
Trend #5: The Rise Of Machine Learning And A.I.
Machine learning and artificial intelligence (AI) are our future. Scary yet exciting – there's no escaping where we are headed, so marketers must embrace them in 2017.
These technologies could be described as the Skynet of B2B marketing, but hopefully they won't turn rogue!
Their power can be applied to many a campaign, including conversational user interfaces on websites and apps via intelligent chatbots, to predictive B2B lead scoring.
Catering for outstanding customer experience, machine learning programs and AI have the power to drive a seamless buyer journey – enabling instant response, feedback and superior personalisation.
Just check out how many vendors exist today: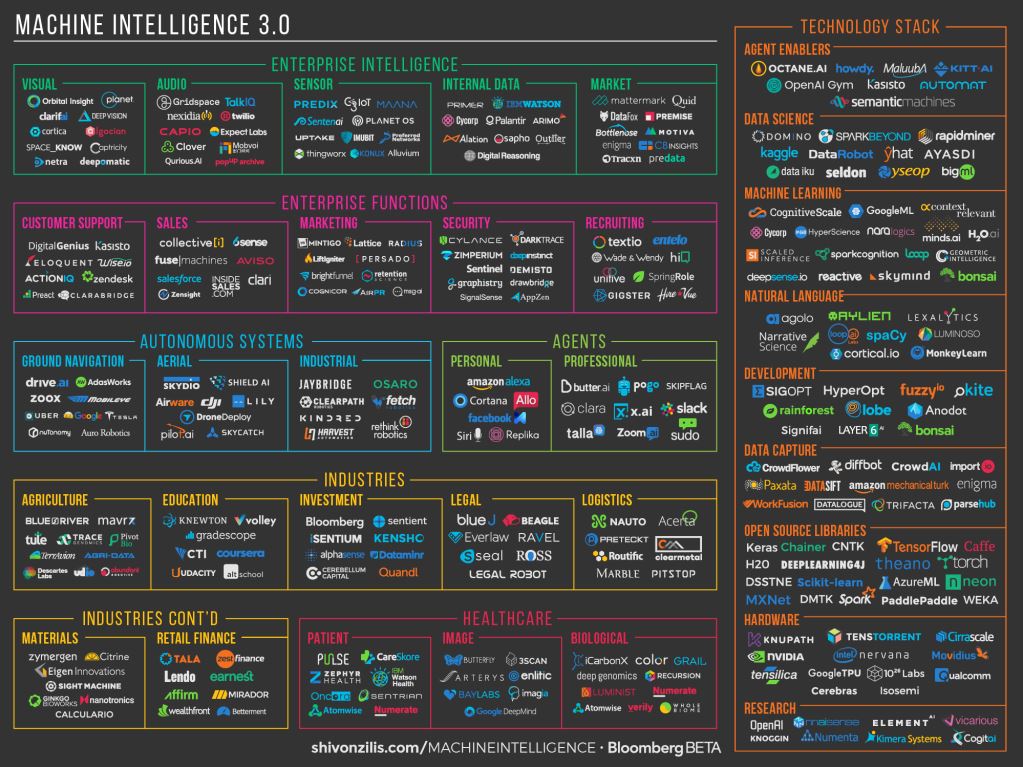 It's a tidal wave of technology – and only growing.
Gartner predicts by 2018, 20% of business content will be written by machines! Comcast and Samsung are already using such technology that can produce 2,000 articles per second.
However, it's not only content being affected…
Programmatic ads will soon be widely adopted. Why manually tweak CPC and targeting when a machine can do it all for you, at a much faster rate – yet infinitely more precise? We will be seeing a huge shift in the media advertising space in 2017 and beyond.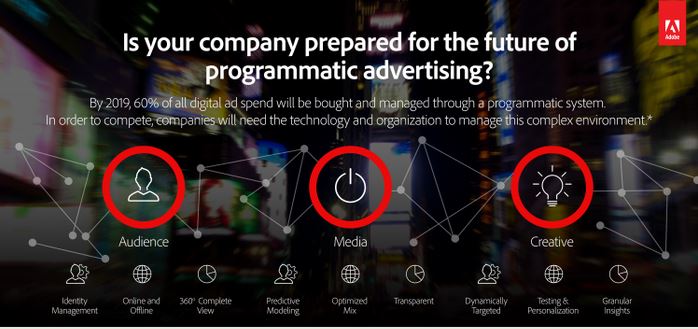 For maximum marketing efficiency and best results this year, explore the many intelligent tech options available to your B2B brand.
Allied Market Research expects machine learning to generate revenue of $13.7 billion by 2020.
Trend #6: Acquisition Of Influencers
Targeted influencer marketing can bring amazing results.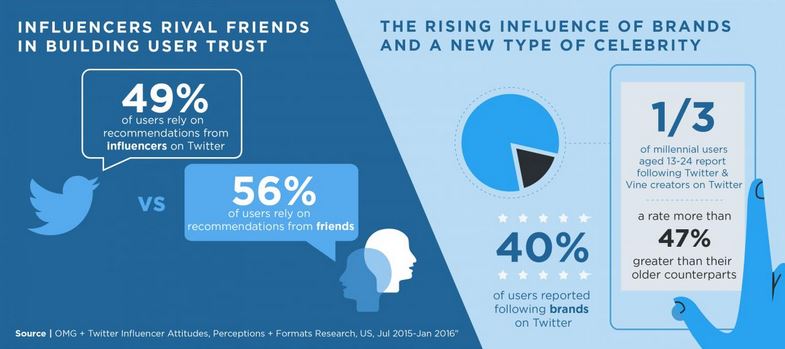 It's certainly all the rage. Last year, more than 60% of brands strategized influencer marketing as part of their marketing budgets…and that figure is estimated to reach 75% before 2018.
Yet – glimpses of a unique type of deal we are seeing now, actually takes influencer marketing one large step further.
Instead of simply hiring an influencer – how about exclusively buying them along with their entire, highly engaged and loyal audience?
Well, that's exactly what CNN did…for a cool $25 million.
The value of this deal speaks for itself, and this year will undoubtedly unveil many influencer acquisitions of similar guises.
Could it be time to jump ahead of the curve and purchase an industry influencer for your brand?
[/newsletter_lock]