If there are two fields that are evolving increasingly rapidly, they are the fields of sales and marketing.
In fact, for a long time, these two professions "purred along" with very little questioning of diehard habits…
However, they are now in the process of changing for multiple reasons:
– the rationalisation of the sales person's profession is in full swing… Long marginalised by IT, the sales person is becoming more and more "digital" (via the digitisation of exchange via e-mails, SMS, etc., and of their work via chat, marketing automation, etc).
– clients' budgets are spent with more and more parsimony, whereas there is, to the contrary, a plethora of solutions and of possibilities for spending.
– pressure on obtaining results has in the space of a few years moved from the quarter to the month and now to the week …There is no more rest between two sprints to hit targets, and sales people have become marathon runners.
– clients are much better informed and they know how (and indeed demand) to negotiate… a list  price is increasingly difficult to defend.
– brand value remains increasingly hard to justify, and clients want to know why they're paying such a price.
– …
In this context, a B2B sales director has to put things in perspective, both in terms of their profession and their team.
N°1 – Work hand in hand with marketing

In many companies, sales and marketing work side by side, but not together…
One department launches their operations complaining about the lack of lead follow-up, and the other department complains about the volume and the quality of the leads generated and the lack of relevance in promotions…
Although this stance can be supported when business is easier, it quickly becomes destructive when the economic situation is more strained.
In fact, the company's business is not going to increase if the two departments are both working independently of one another without any interaction…
Even more so as Marketing (with Inbound Marketing) is gaining more and more importance in lead generation…
It is increasingly the short-, medium- and long-term actions undertaken by marketing that are generating leads instead of the sales person (their network, their contacts with clients, etc.).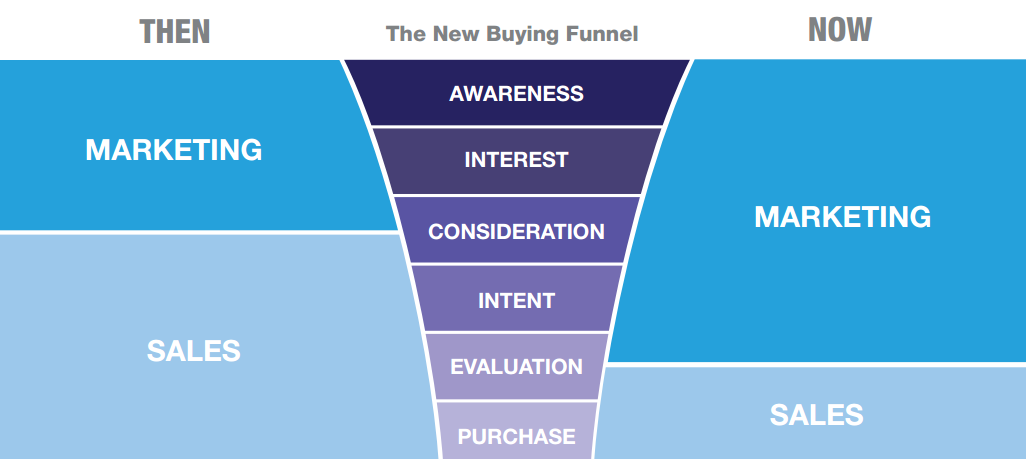 Sales and marketing have to work in harmony so as to benefit from each other's expertise and obtain feedback.
Your action plan:
– Hold a weekly 1-to-1 meeting between the marketing director and the sales director, and share marketing actions and sales results. This meeting, less formal than the sales meeting, will allow subjects be dealt with more in depth and will engender trust.
– Communicate in advance the creation of marketing tools, promotions, content… because sales people often obtain content after the fact, once everything has been finalised. So marketing should present the ideas to be implemented in advance. This communication should also involve celebrating victories together … If the sales team gets their results, they should invite the marketing team in order to avoid the syndrome of "When targets are hit, it's thanks to sales; when it goes wrong, it's marketing's fault as they don't generate enough leads."
– Produce a report jointly between the marketing department and sales people. On the same slides, there will thus be the leads achieved and the sales achieved. In fact, most often, everyone has their own targets and relationships (for marketing it's getting leads vs making sales), without having an overview.
N° 2 – Rely on collaborative work
"If you want to go fast, go alone. If you want to go far, go together"… this proverb is even truer in 2016!
An exceptional sales person can blow their targets away, but if you want to hit, or indeed surpass, the company's targets, then all the sales people need to be involved.
The first reflex is to analyse who the best parts of the team are and to identify why they are so good :
Is it the way they sell?
Is it their organisation?
Is it their sales pitch?
Is it because they know how to justify the prices?
Is it because they can successfully upsell?
…
Following this, share best practices with the other sales people, for example, via a sales person telling a "little story" during the sales meeting.
In a way, this values collaborators but, above all, it makes meetings — which are often sleep-inducing —more informative…
But collaborative work must also apply to the sales director…
The danger in being the sales director is that you become the "deal saver".
Becoming the person who is vital for closing all the big deals… In doing this, all you do is take responsibility away from your team. You should certainly get involved in the deals that merit it, but you should not systematically intervene in every important deal …
Your action plan:
Analyse the individual performances of your sales people, and plan a meeting with the highest performers, then disseminate this knowledge to the team. For example, via a "sales tip" prepared by a sales person during each meeting.

N° 3 – Start using Social Selling and Warm Calling
The era of the sales person with their car and their order book is long past…the "travelling salesman" is well and truly dead.
Their successor must learn to propose solutions instead of selling a product, but this change in stance is also accompanied by a change in prospection techniques.
Certainly, outgoing calls, door-to-door, etc, still work well in certain sectors but they're expensive and exhausting.
The Sales Person 2.0 must learn to use the mass of information available to them on the internet.
This of course means using Sales Intelligence solutions such as Sparklane which enable the identification of potential leads via business signals (e.g. an appointment, a takeover, a product release, recruitment, etc.). You can benefit from leads scored using your own criteria.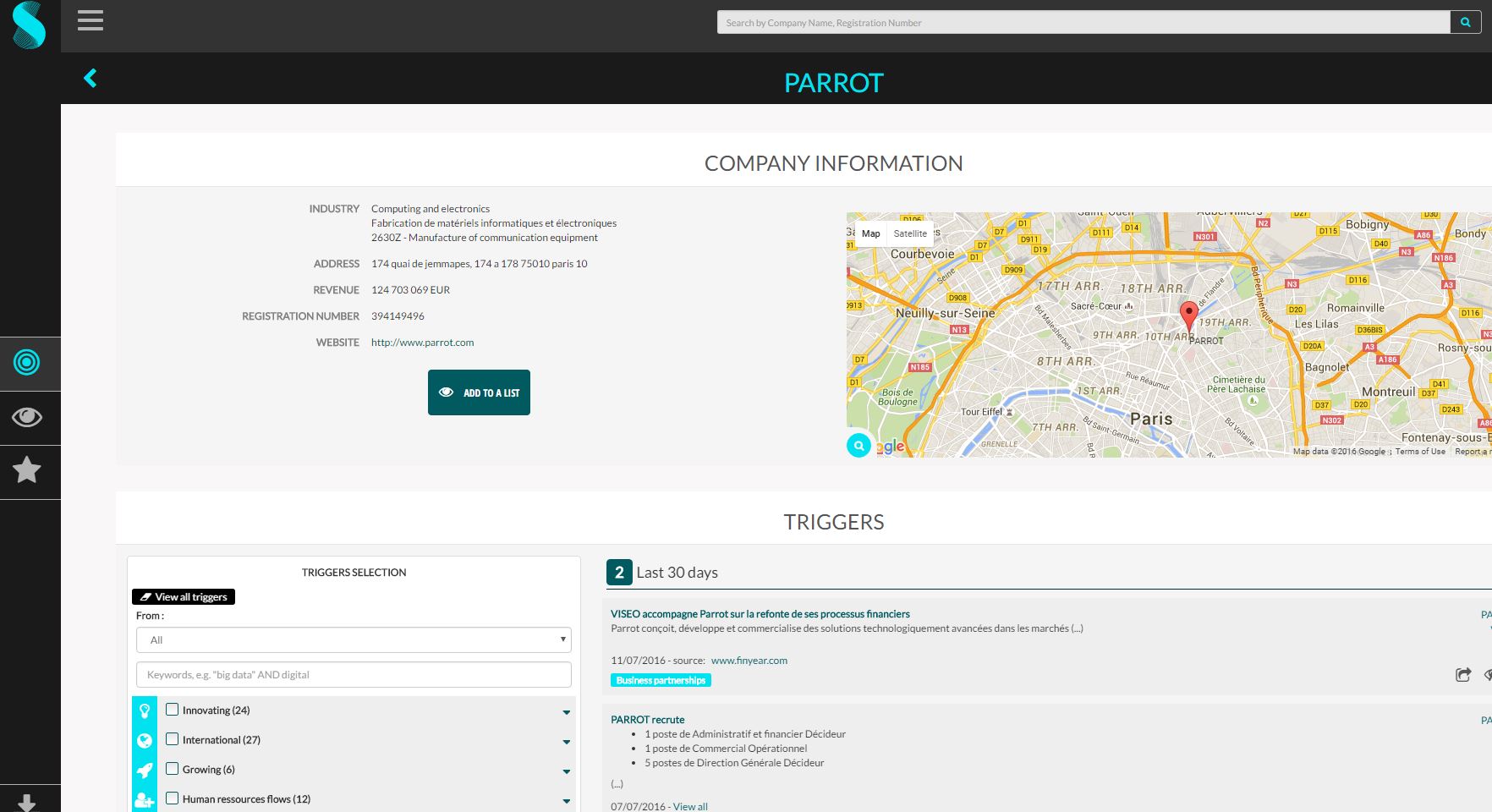 The work of the sales person thus assumes its true value, as they can identify leads and make a "warm call" (calling or making contact with a lead using a justification).
But this can also mean the use of social networks in order to prospect and identify typical clients.
The two methods are complementary. A tool like Sparklane will enable you to identify the companies to be contacted as a priority while a network like LinkedIn will enable you to make contact with key decision-makers.
Your action plan:
Test out Social Selling with two sales people, so as to trial the method on a small scale before rolling it out across the whole team.
Improve your personal branding by being present and active on Social Media. Sales also means lots of interpersonal relationships, using the human touch, in particular in an increasingly digital world.
N° 4 – Motivate your team!
A good sales director is (and must continue to be) a coach who improves their team.
However, their management must also evolve in line with the tools at their disposal.
This kind of set phrase:
"Hit your KPIs"
" You need to close the ongoing deals by the end of the month"
" Pick up your phone and call clients"
"Stay in the office all afternoon and chase up your portfolio"
"I want you to spend more time in the field"
…has to become more precise. What do you want? To improve deal conversions, to reduce the sales cycle, to increase the sale of complementary products, etc ?
And you no longer have any excuses: your CRM (or, at worst, your ERP) lets you have statistics on each sales person…
You can analyse individual performance and establish the levers for growth.
And as generations change, use new motivational techniques based on gamification, namely, use game levers in a professional framework.
To appreciate the increasing power of games in everyday life, you just need to look around you: everyone is permanently glued to their smartphone, with more and more games (Candy Crush Saga, Clash of Clans, etc.).
In this context, rely on immediacy, lucidity and interaction…. via smartphone sales motivation applications.
Your action plan:
Analyse sales people's sales, and undertake an assessment for each sales person, with a personalised action plan to improve each of them. Be careful: the goal is not to give lessons but to highlight and develop skills.
Sprinkle your sales challenges with games and real-time gamification in order to reboost your teams.
The sales people must be convinced that they are helping and providing their clients with a solution. To prove this to them, do not forget to show them testimonials from happy clients… In fact, a sales person too often hears about deals going wrong and rarely about clients calling to say that they're happy!
Read the rest of our article on the 7 methods to be applied by Sales Directors on our blog soon!
Discover an excerpt from the white paper: "How sales intelligence is transforming B2B sales"