Terms like 'lead scoring', 'net promoter score' and 'key performance indicators' may seem daunting at first — but they are in fact very powerful in determining company success and equally: failure.
To run smooth business operations, you need to persistently detect both.
Whether you're a marketer or managing director, you'll know the demands we face in today's digital world often force the 'full-stack' mentality. That means the ability to display wide-ranging skills from blogger outreach to social selling, right through to data mining and technical number crunching…That said, I'm going to explain how to:
Improve your marketing efficiency by building a lead scoring tool for your business.
While also:
Testing your range of full-stack skills by introducing numbers, analytics and spreadsheets into the mix.
Collectively, I'm talking about how to create a lead scoring matrix.
Don't panic. This can be achieved without additional hires; you won't need a data scientist, engineer or statistician to lay the groundwork for such a money-making lead scoring tool.
It's not as difficult as it may sound…
In fact, cut out the marketing buzzwords completely and you're left with a simple, five-step blueprint to effectively qualify your leads.
First, let's tackle the most pressing question that I KNOW is on your mind right now…
[newsletter_lock]
What's A Lead Scoring Matrix, Anyway?
You'll be glad to hear: the string of highly complex films starring Keanu Reeves have nothing to do with this guide!
A lead scoring matrix is a tool digital marketers use to numerically rank and prioritise incoming leads. Lead scoring models are typically constructed using two types of criteria:
1) Explicit Criteria (a lead's background information)
Job Title
Company Size
Company Location
2) Implicit Criteria (a lead's behaviour)
Total Site Visits
Depth of Visits
Media Downloads
Leads that yield a higher score (or sometimes lower, depending on individual tactics) can be met with strategic incentives such as more time, urgency, attention and/or personalisation.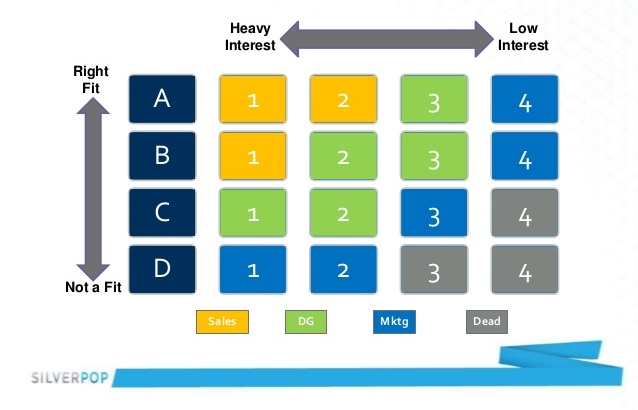 The opportunity? There are very few brands (including your competitors) that are able to suitably build and implement an effective lead scoring matrix.
Recent studies have shown that only 23% of sales professionals feel that marketing departments regularly deliver sales-ready leads — does your sales department think similarly?
If so, begin the assembly of the very resource 68% of successful marketers say is most responsible for steady improvements in revenue contribution.
Call a meeting. Cram your sales and marketing staff into one room. Then, working together, follow the next five steps to create a top-notch lead scoring matrix everyone can support.
This will enhance your entire sales and marketing collaboration, streamlining your internal processes while indicating sheer professionalism to both current and future customers.
Step #1: Describe Your Ideal Buyer
Without an accurate buyer profile / persona in place, it's impossible for your lead scoring matrix to result in success. While crafting yours, zero in on the answers to three important questions:
Question #1 – What type of companies or individuals most commonly buy from you?
Question #2 – Who is ultimately responsible for making a buying decision?
Question #3 – What makes your salespeople excited with regards to incoming leads?
Having trouble pinpointing a buyer's most valuable profile points? It needn't be an issue — the below attributes are frequently applied:
Industry
Years' Experience
Specific Expertise
Annual Budget
Revenue
Geographic Location
Web Traffic
Personal Interests
Start off simple and as you get the hang of it, introduce more complex systems.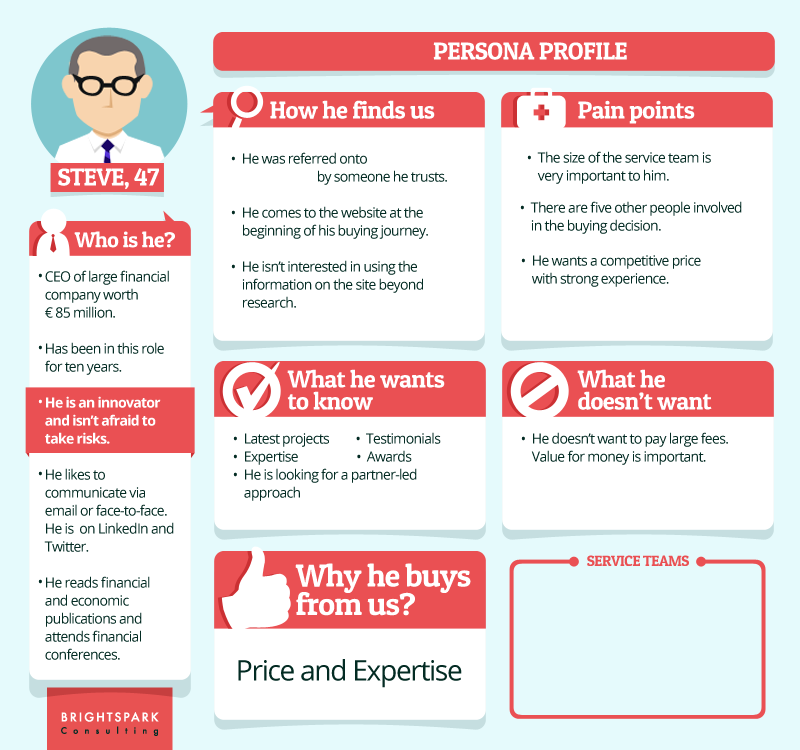 If possible, I highly recommend looking to current customers for feedback, placing extra emphasis on those who have shown keen interest in your company. Think: brand ambassadors and your highly active social sharers. These people will be much more inclined to fill out surveys or take a quick call on the phone for some qualitative research.
Next, make certain that all forms, sales calls and third-party data sources request a selection of this information to make life easier for you going forward.

Step #2: Assign Points to Profile Attributes
It's now time to allocate a point value to characteristics. Take it from me — don't make this step more complicated than it needs to be!
Point values are relative. No need to get hung up on whether you should launch a 10 or 100 point system. Just start with something.
All that matters is that higher point values signify warmer buyers, while lower point values indicate cooler ones — nothing more, nothing less.
Here's an example of a scoring system you could implement:
10 Points – Moderately important; signals buying potential and possible influence.
20 Points – Clearly important; signals genuine buying potential and established influence.
30 Points – Highly important; signals immediate buying potential and great influence.
Here's an example outlining the propensity of a purchase based purely on demographics: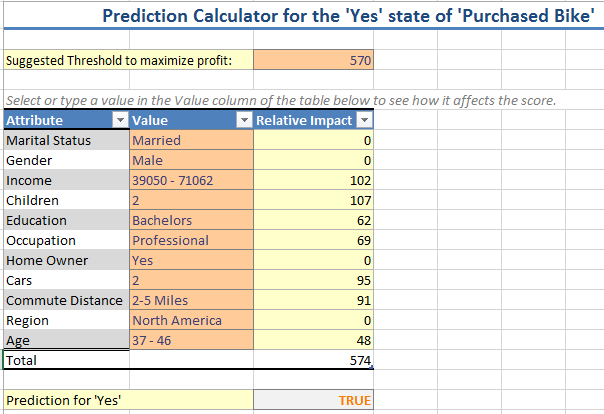 Step #3: Identify Actions that Show Interest
This is somewhat similar to the first step. Only this time, instead of identifying what a buyer looks like, focus is placed on the definitive actions they take before buying.
Answer three questions to guide your efforts:
Question #1 – Which on-site content is routinely consumed before a purchase is made?
Question #2 – What types of content do ideal buyers engage?
Question #3 – What actions indicate interest in speaking with a sales representative?
The options are endless and will be unique to your business: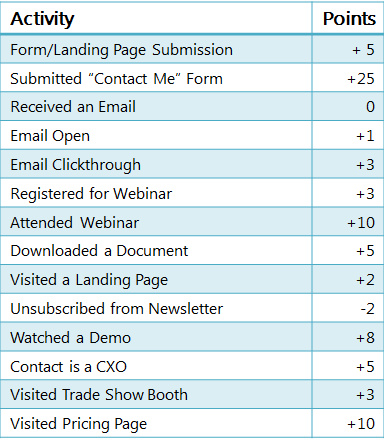 That said, whatever you ultimately decide to spotlight with your lead scoring matrix, remember:
The more precise the action, the more valuable your targeting.
Valuable = Visiting your website.
MORE Valuable = Visiting a specific page on your website.
Valuable = Downloading a PDF.
MORE Valuable = Downloading a specific PDF.
Valuable = Opening an email.
MORE Valuable = Opening a specific email.
Landing pages, forms, e-books, videos, webinars, online courses etc — they're all specific components in helping you determine a lead's interest in your products or services.
Step #4: Assign Points to Each Action
Submitting a form to opt into an email list is certainly a step in the right direction, but completing a form to gain access to a free trial of your brand's product? This is definitely more advantageous.
Keeping consistent with the points system you developed in Step #2 and the logic presented in Step #3, assign points to the actions a future buyer could take.
The individual and cumulative values provide ideal opportunities for you to sift out prospects throughout their stages in the buying journey.
For instance:
5 Cumulative Points – Prospect is taking a brief interest.
50 Cumulative Points – Prospect is hot and ready for action from the sales department.
You should also positively and/or negatively weight these cumulative points with regards to time duration and decay. If a visitor totaling 10 points doesn't return for 6 months, a few points could be knocked off their total…
BUT — this depends entirely on your business model. If you have a typical sales cycle spanning 12 months from discovery to transaction, this time period of inactivity and re-activity may even add points to total scores.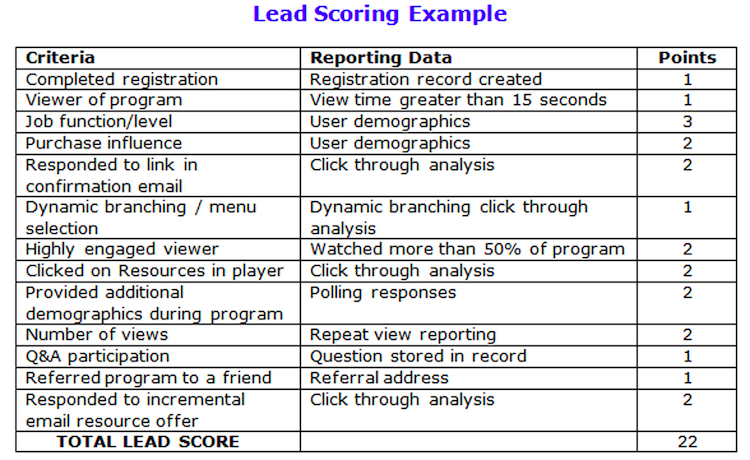 Step #5: Build Your Lead Scoring Matrix
Congratulations! You've reached the easy part.
You will be glad to know that your ongoing scoring system needn't be a manual job. That would be enough to drive anybody insane!
Automation is a marketer's best friend — this isn't ever going to change — it's only becoming omnipresent.
Save yourself heaps of time by using cloud-based marketing automation programs for hands-free, progressive control of your lead scoring matrix.
Salesforce, Marketo, Microsoft Dynamics — they're all excellent options and can be effectively combined with Sparklane's hyper-targeting solutions to reap the best rewards for your business.
Once you've chosen your blend, it's critical to dedicate a good few weeks to learning the systems while inputting the required lead-identification data you designated during the first four steps of this process. Then you must create thresholds for determining when a lead is ready for sales and sync your various lead scoring fields across your automation apps.
Points will automatically accumulate and the results of each lead will be visually delivered to you as they arrive — you can even set alerts based on custom criteria.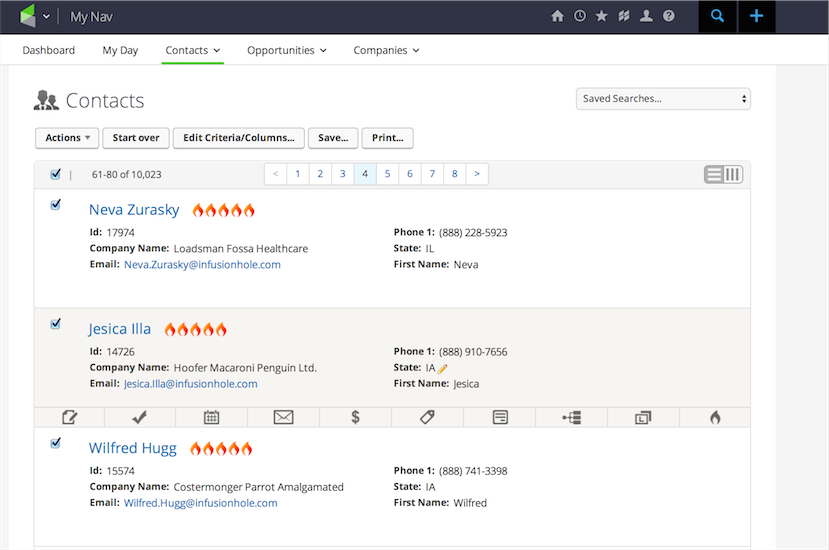 From there, it's up to your sales department to onboard new, loyal clients.
Bringing It All Together
Whether you see them as dry, fright-inducing or awesome, it doesn't matter — predictive analytics are here for the long haul and you must adapt.
In the past, businesses looking to improve their marketing through any kind of accurate lead scoring matrix would have probably required a team of traditional data scientists (without the white lab coats).
Now, thanks to advances in technology, packaged software and the above five steps, lead scoring is straightforward, automated and easy to embrace — you've got nothing to worry about and every reason to be excited!
The sooner you're able to dive headfirst into the construction of your company's customised lead scoring matrix, the better…
What are you waiting for? The future of marketing is already here.
Discover an excerpt from the white paper: "How sales intelligence is transforming B2B sales"
[/newsletter_lock]