Following our article published last Tuesday (see first part), here are the rest of the 10 fool-proof sales techniques that will help you exceed your sales targets.
6 – Put your sales people into "closing mode"
For a sales person, the "closing mode" consists of concentrating during 1 to 3 weeks maximum on signing off ongoing deals, without dedicating time to undertaking actions for building business for the next semester.
The goal is to concentrate their efforts on those actions that will bring in signatures in the coming months. Generally, this operation is triggered just before the end of the quarter so as to wring out portfolios of deals that may happen within the month.
It involves:
Chasing up the portfolio of deals
Postponing all presentations to new leads by one to two weeks
In-person or telephone meetings together with the sales director to negotiate deals
The possibility of managing discounts or one-off promotions over a very limited time period
…
7– Put a sales challenge in place using gamification
You all know how effective a sales challenge can be… But the majority of sales challenges do not offer a maximum efficiency because:
The best sales people know that they are going to win, and those running behind become demotivated
The event is at best done on a weekly basis, via e-mails that are not widely read
Motivating the sales people requires a lot of time and energy
As the promise of rewards is either distant (e.g. at the end of the quarter), or opaque (e.g. difficult point calculation), or ridiculous (e.g. winning a Wonderbox)… sales people are not 100% motivated
…
Hence the importance of putting in place a real game and real competition between sales people.
Why will a game work well with sales people?
Quite simply because 44% of sales people have what is known as a "killer" profile in video games, that is to say that they seek above all to be the N°1 compared with the others (regardless of what's at stake, the goal is to win!)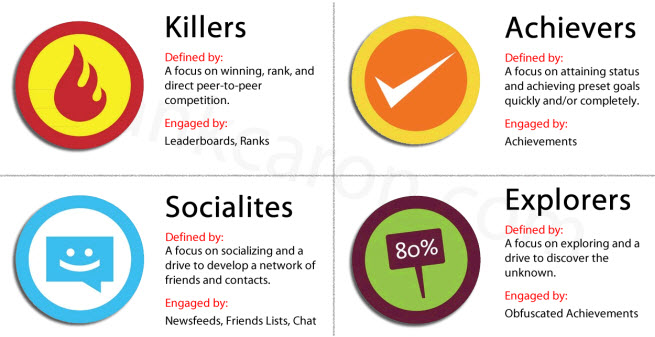 You should therefore play on this "killer" profile in order to motivate your sales people and instil a competitive spirit. Your sales team will thus try to exceed their targets.
For this to function correctly, it is necessary:
For the challenge to be achievable and well distributed between the sales people's different portfolios.
For there to be a classification, with regular messages of encouragement.
For the sales people to be able to follow their performance easily and in real time.
…
NB : it's not necessarily prizes that will motivate sales people but more the competitive spirit (the famous "killer" mentality).
And it's now relatively simple to put this kind of fun sales challenge in place using mobile apps.
These enable managers to easily send personalised messages and sales people to follow their performance on their smartphones when they have a bit of free time (moreover, we've noticed that these sales challenge apps are generally most consulted in the evening after 7.30 pm).
The following kinds of gamification apps can be used, for example: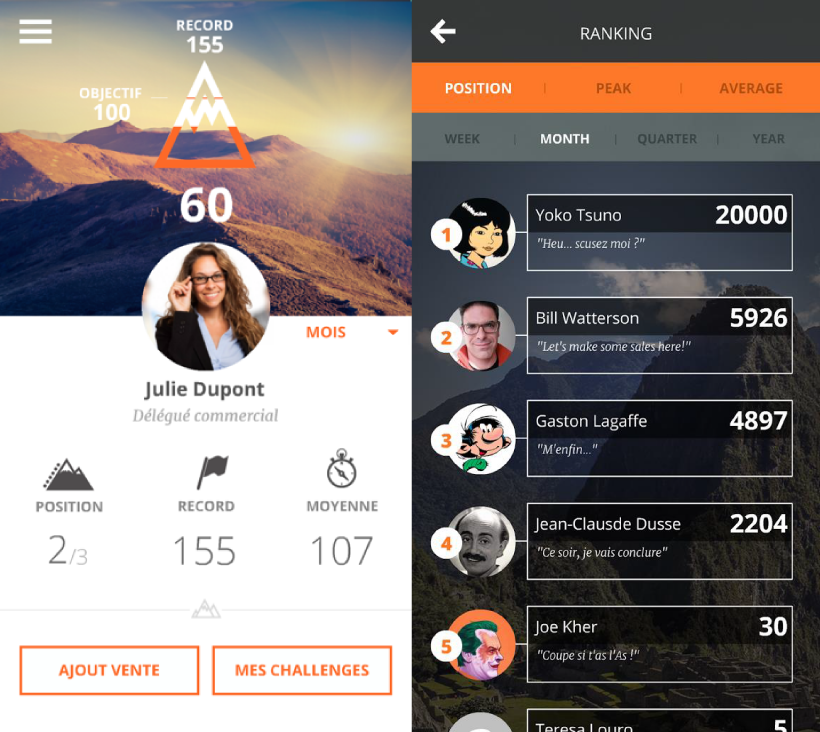 Cost: Less than €30/month/sales person
ROI: within 3 months (for example, the Belfius bank achieved +30% sales in one agency over 4 months via the use of a gamification app)

8 – Launch a time-limited promotion
Promotions remain the easiest sales tools for boosting sales, but they're also one of the least profitable techniques as turnover and margins also diminish… For a promotion to be beneficial to turnover, the goal should not be to offer a discount on a price but rather to add value to the product.
It is thus possible to run an "upselling"-type promotion for ongoing files so as to increase the added value without touching the prices. For example, you can automatically upgrade your leads from the Silver offering to the Premium offering, offer a higher level of technical support, or add products as a bonus.
This promotion can also involve other targets, for example:
– Putting a sponsorship deal in place for your clients, so that they receive a gift if they recommend a client
– Revising sales peoples commission, with, for example, a booster for those who exceed their goals
– Offering an incentive/gift for technicians, project teams, etc. if they provide a qualified lead
– …
Cost: variable
ROI: within a month
9 – Use an outsourced sales team
Sometimes the difficulty in hitting targets comes from the fact that sales people do not have time to try to boost the business. In this context, one solution is to use an outsourced sales team. But for this to be profitable in the short term, the team has to be used to put a very precise "commando action" in place.
This can be:
Qualifying a lead database that has just been obtained (via an email campaign, a database rental, etc.) in order to detect sales opportunities (which will then be forwarded to the company's sales people).
Qualifying your contact database in order to identify the possibilities for selling services or updates, proposing additional services, proposing new products, etc.
Updating your contact database so as to qualify contacts, gather new e-mail addresses, etc. to then launch a marketing operation
Telephoning to make invitations to an in-person event or a webinar, etc.
…
Cost: High
ROI: within a month or a quarter
10 – Organise an individualised "pipe" review every week
The individual portfolio review is a practice that we see far too little in companies. However, it's one of the most effective tools for getting sales people to face up to realities and to avoid certain sales people's over-optimistic sales forecasts.
With a deal-by-deal review, the sales person is obliged to have an exact vision of how each deal is progressing, which compels them to very regularly monitor their ongoing deals. This process of reflection will enable them to manage their priorities but also to get help from their sales director (or from their colleagues) to find ideas to improve their chance of closing.
In addition to the weekly review, the sales director may impose a daily "standing meeting" during the last week of closing. This involves a meeting lasting 10 minutes maximum per sales person each of whom will lay out their action plan for the day (this can be held standing up by the coffee machine or by telephone). The goal is to concentrate their priorities on the actions that will have the greatest short-term impact.
Be careful here: this "tight marking" is particularly stressful and exhausting for sales people and can provoke backlash in a sales team that is not used to these techniques. This practice should always be limited to a fixed period of time or undertaken as part of the "closing mode".
Cost: Low
ROI: within a month
In conclusion
In a more difficult economic context, it becomes indispensable to use original techniques and methods to help your sales people to reach their targets. This is why this article provides some techniques that are still little used in order to help and motivate your sales people.
Nevertheless, it is also essential to invest in continuous training for your teams (sales techniques, sales pitches, etc.) and in modern tools (CRM, qualified databases, etc.) to help your sales people to reach their targets.
Finally, don't forget to put the human factor at the centre of your concerns: celebrate victories, even the smallest ones, congratulate effort and performance… and remember to move back into "normal" mode once the quarter is over so that the teams can catch their breath and recharge their portfolio!
To read the 1st part of the 10 fool-proof sales techniques, click here.