This situation should remind many sales and marketing managers of something: the end of the quarter is quickly approaching and you still have some way to go in terms of hitting your B2B sales targets… It is time to put what I call the "Disaster Contingency Sales Plan" in place, that's to say to implement a plan of specific actions aiming to hit B2B sales targets in under 3 months. For this, I'm going to tell you about 10 techniques that will help you explode your quarterly, even monthly, B2B sales targets!
1 – Organise a "Lead day" in the company


The goal is to have a specific day during which the entire company is focused on lead generation. The purpose of this "lead day" is to "clean" the portfolio of ongoing deals and to chase up old leads. In this context, the sales people will all be in the office in order to carry out a "commando" operation. But you need to go further and get the company's other employees (marketing, accounts, etc.) involved in this "spring cleaning". To do this, you have to allocate each person a quota of calls to make and a list of people to call back (either by using the CRM or by sending an Excel spreadsheet with a list of contacts, or by sending a file with the list of the latest information requests made on the website).
For this to work correctly, you need to provide a call script and the actions to be undertaken if the prospect is hot/cold (e.g. inform the sales person, close the opportunity). This technique is particularly efficient if your sales people don't have time to chase up opportunities or if you don't chase up all information requests (or even better if you don't have office-based sales people responsible for qualifying leads).
However, make sure that you provide up-to-date files (or ask to check that the lead has not become a client!) Likewise, you should plan to have a sales person nearby to answer any sales or technical questions.
Cost: €0 (apart from employees' time)
ROI: fast
2 – Put a "contact day" in place with your sales people
This technique is used every 3 to 9 months in companies that have a large sales team (minimum 5 sales people), because a high volume of contacts needs to be entered. "Contact day" consists of asking the sales people, telesales, sales directors, etc. to enter all the new contacts they have acquired during the period into the CRM so that they can be used. In fact, sales people tend not to enter into the database the business cards from the contacts they may have met.
This can be:
New contacts in the company
Purchasing advisors
Suppliers
Leads
…
The contact details of the leads to be integrated can come from:
Business cards collected during appointments
Contacts met during shows, networking evenings, etc.
Direct contacts with whom they have corresponded by e-mail
Contacts added on LinkedIn and Viadeo
People that have called them on their mobiles
…
The essential point is to motivate the sales people to integrate the contacts into the CRM via, for example, a competition for the number of new contacts entered, a ranking of the sales people that have added the most new contacts, etc. However, if this is to be effective, these contacts must be sorted and classified. For example, if it's a lead or a LinkedIn contact, you need to link it to the sales person who provided the contact (so that the contact is not surprised to receive an e-mail from the company!)
Following this work, the marketing department will be able to launch an initial campaign dedicated to these contacts:
Offering a free white paper,
Sending invitations to a webinar,
Giving a guide of tips and hints for the product,
Organising a competition,
…
All of this is intended to provide communications adapted to the profile of the contacts encountered. Following this initial contact, the company will be able to integrate these contacts into the usual communications.
Cost: less than €2,000
ROI: within a quarter

3 – Use a qualified database
One problem for sales people is not necessarily having more leads but having leads of a better quality… Hence the importance of identifying the profile of your typical clients (via the persona method), so as to then find similar leads in the qualified databases.
For example, by using the Sparklane solution, you can access a base of companies and contacts targeted according to precise criteria (activity, sales, role, etc.) that are qualified thanks to the automatic detection of business signals on each of your B2B sales targets (based on their news), which avoids fastidious qualification work.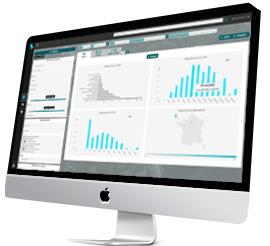 Additionally, this type of tool lets you put "warm calling" in place, that is to say you can call contacts with a "pretext" (e.g. a company that's recruiting, an appointment, etc). With "warm calling", you can contact a company by using that company's context.
Cost: average
ROI: within a quarter
4 – Train your sales people in Social Selling
In a difficult economic context, the power of networks and recommendations can make an important difference. Sales people must take into account the power of social networks in sales.
This materialises via several actions:
Systematically add your contacts on LinkedIn and Viadeo in order to remain in touch. For example, when you obtain a contact via a white paper download, use the e-mail address to add the person as a contact on LinkedIn and Viadeo with an internal message.
Keep your network alive by automatically publishing your blog articles, Tweets, etc. on your sales people's LinkedIn, Viadeo, etc. accounts via Zapier, https://dlvr.it/
Pass on your high-quality content (studies, infographics, etc.) via your company page, via "Pulse", in groups, etc.
Use LinkedIn and other website's tools to target by post, region, etc.
Establish whether you can obtain from one of your contacts a recommendation or an introduction to a potential target.
…
Cost: 15 minutes/day
ROI: within 6 months
5 – Organise a physical event to invite reluctant leads
Contrary to popular belief, physical meetings remain one of the best tools to meet one's leads and to swing the buying decision. But to do this, you need to bring added value (e.g. a conference, a presentation, having several experts participate) that will make your physical event a moment at which the lead is going to obtain useful information. In fact, a web seminar is well suited for facilitating a volume of leads, for helping leads who are already half acquired to decide… but a physical meeting lets you build personal relationships and create a connection that will accelerate the purchasing act.
This physical event is also a good opportunity to trigger the sale of a reluctant lead. In fact, you will be able to take your time to respond to all their objections but, in addition, they will be able to meet the commercial director in order to finalise a commercial agreement.
Cost: Less than €3,000
ROI: within 3 months
Read the rest of the 10 Sales techniques for exploding your B2B sales targets in our next article, published this week.