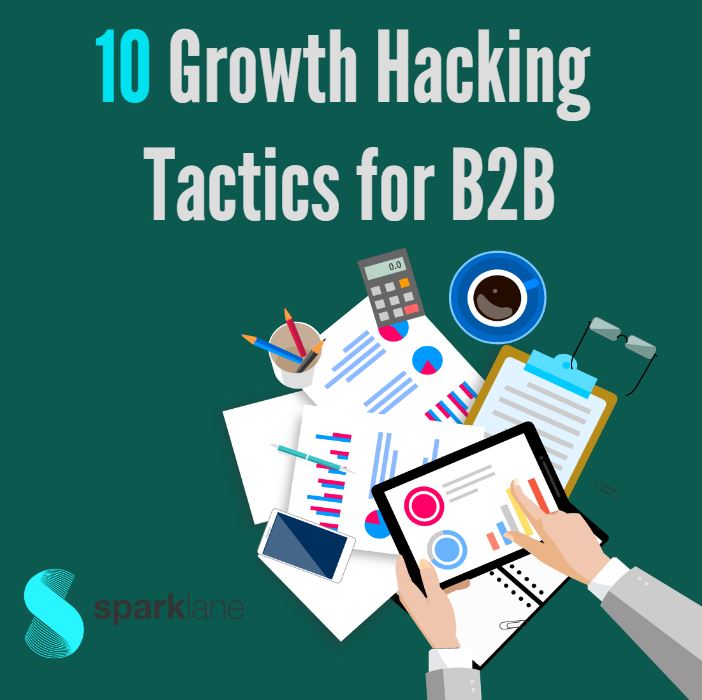 With the exponential development of the start-up economy, Growth Hacking has been generating more and more buzz in the marketing world over the past few years.
The term "Growth Hacking" first appeared in the United States in 2010, in Silicon Valley. Its creator is considered to be Sean Ellis, the founder of Growth Hackers. The goal of Growth Hacking is to rapidly increase the number of users of a product or service, by whatever means. Everything is based on testing and feedback so as to then choose such a technique or such a tool over another one. And what is true for company A will not necessarily be true for company B.
So here are some Growth Hacking tactics to test out in B2B to quickly generate qualified leads:
1- Create useful content that is in line with your market
One of the keys to Growth Hacking for B2B is content. You need to produce high-quality, attractive, downloadable and shareable content, such as e-books, white papers, case studies, webinars, blog articles, Slide Share content, etc. Propose content that provides knowledge and relevant information for your audience. The watch word here is sharing. Your content has to be fulfilling and easy to share.
In addition, pay close attention to your key words to improve your Google referencing.
2- Recycle your content
It's laborious to constantly create new content. It uses up resources, takes time and costs money. The best thing to do is mix new content with recycled content. For example, reuse an article that worked well by making it into an infographic or do a "Best of" of the most successful articles on a specific theme by compiling them as an e-book. You need to do this constantly in order to create content that is both diverse and easy to consume for your audience.
3- Use retargeting on your content
Content has to be the cornerstone of B2B Growth Hacking strategy, but don't forget to use retargeting on the visitors of your blog. You can use Google Ads, Facebook Ads, Twitter Ads, and other services. Create specific banners linked to a visit to a particular page on your blog and target this audience for a maximum effect.
4- Create a connection with your newsletters and emails
The people who open, read and click on your newsletters are in the right frame of mind to read longer content (when they have time) and even provide additional contact information via a form. They represent good targets to convert at a later stage.
An interesting thing to do is to segment your newsletters. Don't send the same one to everyone. For example, you can create one newsletter for your paying clients, another one for those who have signed up for a free product test, and then another one for visitors to your blog who have yet to buy anything.
5- Consolidate your presence on LinkedIn
LinkedIn really has no competition in B2B. It's the social network on which you need to have a presence. It's not enough to create a page for your company though; you also need to actively participate in discussion groups related to your activity, or even create your own group to which you can invite your clients and leads. And, above all, you need to regularly post value-added content, several times per week. Repetition makes reputation. If you post an article every day on subjects that directly interest your audience, then you'll fairly quickly attract the attention of your targets. A recent study demonstrated that LinkedIn was the source of 80% of B2B leads generated on social networks. This is due particularly to the purely professional nature of LinkedIn. And with 400 million members, it's very likely that all of your leads are on it.
6- Produce and publish client testimonials
Going beyond the sales pitch, a client testimonial lets you give your audience concrete proof, feedback, which will convince visitors on your website or blog. It's the equivalent of comments on travel website such as Trip Advisor or Booking.com. If you see 10 glowing comments about a hotel, you'll be more likely to book a room there than if there are no user comments. So pay attention to your client testimonials, whether these are written, videos or simple quotations. Accompany them with hard-hitting headlines and don't hesitate to publish them on social networks.
7- Participate in/organise events
You need to be known and renowned in your market in order to develop. And participating in or organising events is one of the most effective ways of achieving this. In fact, even if you don't generate mountains of leads following your participation in a trade show, via a stand and/or a workshop, visitors are going to identify you as a player in the market, come and meet you, attend a demonstration, ask questions, obtain further information, leave you their business card, take away your literature, etc. In short, you will be visible and remembered by your audience. Even better though, organise your own events! For example, once a month, you can organise a breakfast meeting with your leads on a specific theme linked to your product/service that addresses an appealing issue at the same time. This will have the advantage of showing your leads how your company is dynamic and wants to enrich their business knowledge. Change the subject at each event, invite a client to speak and provide their testimony, and finish each session with a demonstration of your product. This will enable you to reinforce your relationship with your leads and to convince them to become clients.
8- Help your clients get started with your product
It's best to offer a product with the easiest possible use. Nonetheless, this is certainly not always the case. If your product is somewhat complicated, test out different ways of training your users as quickly as possible. For example, you could include training sessions in your sales contract. However, if you sell a SaaS solution abroad, this could quickly become problematic. So why not offer training sessions by videoconference? Try to test out different options with participants so as to assess which ones work best.
9- Personalise your relationship with your clients and leads
In B2B, we tend to forget that it's not just the company that is the client but the individuals working for that company. Indeed, it is crucial to personalise the client relationship in B2B, regardless of where the lead is in the sales cycle. To do so, you have to be informed of the context of each of your leads, know their issues, their economic situation, their sector of activity, etc. With this in mind, there are now so-called Sales Intelligence solutions available on the market, such as Sparklane. Segment your email contact database so that you can send different and adapted messages to each target segment. Make sure that you send the right message, to the right people, at the right time.
10- Invite your audience to act
For example, Hubspot systematically places a "Call To Action" button at the end of each article published on its blog. If you have found the right path to access a potential client, try to find a technique to suggest to them what they should do next. This could be a button inviting them to sign up to your newsletter, complete a survey, ask for a demonstration of your solution, request a free trial, etc. Don't leave your leads high and dry. Guide them along your path.
These Growth Hacking tactics are not exhaustive of course. There are many others. There is no shortage of articles on the subject. But if you start with these, they'll put you in the right mind set to constantly look for new methods and new tools to help the rapid growth of your company. It will then be up to you to keep those that work best in your context. Once again, what works for company A won't necessarily work for company B.
DO YOU KNOW SPARKLANE FOR SALES ?
Quickly identify your sales-ready leads keep in touch with your market