As a follow-up to the first part of our article on Sales Enablement, in which we dealt with the necessity of undertaking a sales audit, here are the priority actions to be implemented.
Stage 2 – Draw up a list of priority actions to be implemented
The goal is to help the sales people in the sales process on a daily basis.
Here are some ideas for Sales Enablement actions to improve your sales efficiency:
Optimise your sales organisation:
Put a CRM system in place or develop your existing CRM. The temptation is often to call existing tools into question, but it is sometimes more efficient to first improve these existing tools rather than starting all over again.
Rotate the sales sectors and client portfolios.
Review the pay scale.
Change the sales organisation, with field sales people supported by telesales people or a lead-qualification team.
Review the sales training, with less theory and more practical workshops in real sales situations; even set up individual coaching with follow-up over time.
Run collective Win/Loss sessions in order to work on pitches and best practice.
Set prospection quotas (for example, X number of leads to contact by phone per week, or X number of in-person appointments/month).
Put social selling in place by encouraging the sales people to share company information on social media…
Reduce the length of unnecessary meetings (for example, hold stand-up meetings, have a telephone meeting lasting a maximum of 1 to 5 minutes with 1 sales person every day, or have a working lunch with a member of your sales team every day).
Ask the sales people to analyse how they "spend" their time over the week, to find out if there are things they can reduce/automate/delegate/stop doing, etc.
Ask your sales people to stop starting their day by checking their email but instead by deciding what the priorities of the day are. At the same time, encourage them to reduce "multitasking" as much as possible, as this makes them inefficient (we need to focus on one action) and to do away with distractions (message alerts in MS Outlook, smartphone alerts, etc.).
Put in place a team to work on retaining clients who want to leave, or at least predefined retention offers/commercial gestures for clients who want to leave or are very dissatisfied.
Recruit new sales people or bring in interns from business schools.
…
Develop the sales policy
Develop the sales and pricing policy. This can mean offering new sales methods (for example, financing, bundles, packages, sales conditions, discounts, scales, rental, or sale or return).
Control the discounts given by the sales people in order to improve margins and reduce the image of "permanent promotions" or public prices that are not the "real prices".
Review the commission scheme, for example, "Double commission" if plans have been identified with a client shared between two sales people…
Increase prices, as it's the best way to improve margins (via bundles, premium packs, vertical offers, service offers, etc.).
…
Coaching and training:
Train your sales people to sell the benefits and to provide solutions rather than sell features…
Train employees on the company's new products and on sales techniques (for example, social selling).
Do 1-to-1 coaching with the sales people on their pitches, on answering objections, etc. to make sure that their discourse is consistent.
Video the sales people's pitches and/or demonstrations, then do a critical analysis afterwards.
Recompense the sales people in ways other than money (congratulations, presents, etc.).
Organise a one-hour webinar/presentation on one of your main competitors with the key arguments for counteracting them.
…
Organise challenges and incentives
Organise a team building day to give the team a boost.
Set up a sales or gamification challenge so as to re-motivate the teams to sell a new range of products, to do more prospecting, etc.
Review sales assistance tools
Can you delete 50% of the content of your PowerPoint presentations without impairing their readability? In fact, the slides are not supposed to be talking in your place!
Put Battle Cards in place to counteract your main competitors
Update the sales pitches, product factsheets… or make samples/goodies available
Equip your sales people with modern tools (smartphone, tablet, web presentation tool, demonstration videos, etc.).
Personalise PowerPoint presentations, videos, sales offerings … with the company name and logo, contact names, etc.
Set up an intranet that centralises the marketing & sales tools.
…

Put special sales actions in place:
Identify company "gems" to highlight (product stock, star products, new products or features, etc.).
Undertake a file-sorting action internally/externally by a telemarketing team, or by a database-cleaning company…
Use your products internally so as to be their first advocates (and to push R&D to improve the product)
Redecorate the offices. The working environment has a direct impact on motivation.
…
Improve cooperation between Marketing and Sales
Choose to follow fewer leads but above all better quality leads with more accurate follow-up.
Put in place a lead-detection bonus for the technical teams and other employees of the company (for example, a nice present for each qualified lead passed on).
Set up a sponsorship programme with clients.
Send the marketing team the list of happy clients so they can obtain testimonials (or set up an NPS study so as to identify your 'fans' and then ask them for a testimonial).
Give the company more of a human touch (for example, put photos of real clients in the brochures, or put photos of the sales people in email signatures,).
…
Review the roles and duties of the sales director
Be more present in the field and accompany the sales people on their appointments.
Stop firefighting and always wanting to get involved in important deals as this takes responsibility away from your sales people.
Cut down on the time wasted in unnecessary meetings (always ask what is expected from your presence).
…
Be careful: the goal is not to respond to all the sales people's requests but to prioritise them.
Likewise, remember that it's not your tools that are going to provide the miracle solution (software, training, etc.), they are just resources.
So there needs to be a follow-up and involvement in order to achieve results.
Stage 3 – Analyse the initial results
The value in setting up actions with rapid ROI at the beginning of the approach immediately enables you to demonstrate the interest of the approach and to trigger a positive dynamic.
In order to do this, you have to analyse the results both qualitatively (the number of extra calls made, the number of appointments with leads, increase in sales figures, etc.) and quantitatively (naming happy clients, win-backs of clients that had gone to the competition, etc.).
This kind of information must be presented to management as well as to other employees. The communication is as important as the action.
For this to work well, members of the sales team should ideally present the examples and successful stories.
Stage 4 – Put in place a policy of continuous improvement
Sales Enablement is not a "lightning" action but a process of continuous improvement.
This means that it is necessary to schedule regular actions:
Get the marketing team involved in sales meetings so as to obtain feedback.
Hold 1-to-1 meetings between the sales director and the marketing director
Make a "suggestion box" or set up a working group.
And so on…
Likewise, not every sales person is going to need the same attention or the same tools, so you need to adapt a personalised programme of improvement, which could be linked to challenges or incentives.
Additionally, successes should be communicated and "small victories" celebrated. The goal is to put a virtuous circle in place in the sales department.
In conclusion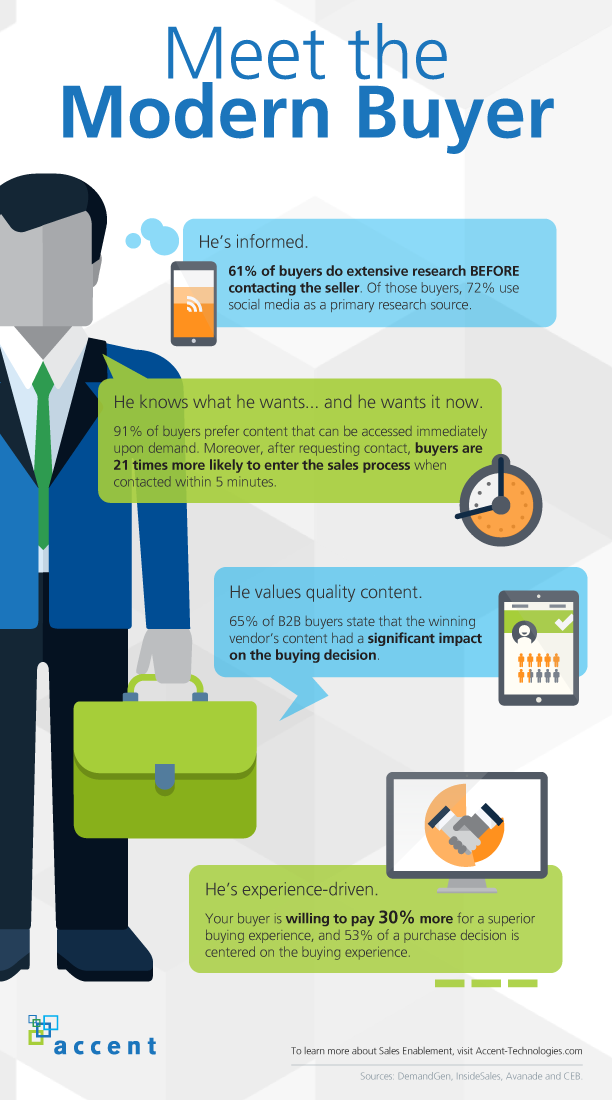 As you've read, Sales Enablement is nothing new: sales directors have always sought to optimise their strategies and sales organisations.
What has changed, however, is the tools made available to the sales people (CRM, Sales Intelligence, social media, mobile apps, etc.) and the new opportunities that these bring.
In parallel, the profession of the sales person is evolving, heading towards more and more assessment of efficiency and a culture of performance… and this is where Sales Enablement comes into play!
Discover an excerpt from the white paper: "How sales intelligence is transforming B2B sales"