It's the big B2B trend of the moment. Many companies are pushing their sales people to roam their social networks in search of new leads. It's time for Social Selling, but how efficient is it?
Managers are in huge demand via telephone and e-mail. The web has a constantly growing influence. These factors mean that sales prospection is becoming increasingly difficult. This is a fact. Sales people must expend more and more energy to meet their goals. Sales departments have fully integrated this new dimension and more and more of them are taking out LinkedIn subscriptions, so as to push their sales people to prospect on social media.
Is the social network really a promised land for the seller?
The figures advertised by LinkedIn to management departments are irrefutable. 90% of decision-makers no longer reply to an unannounced telephone call, and 75% of B2B buyers visit social networks. The American site offers them a stage-by-stage approach to transform their sales representatives into Social Selling champions. They have to start by establishing their brand on the social network, finding the right people with whom to share content and finally build relationships of trust.
Ultimately, the goal is for these virtual relationships to turn into commercial relationships one day. LinkedIn has even developed an indicator, the Social Selling Index (SSI), which lets everyone benchmark themselves and know whether their company is performing.
Having a strong brand, targeting the right people in companies and, if possible, those interested in what you can offer them, is obviously how you give yourself the best odds. But does that really make it the "Silver Bullet" that will definitely get your sales person an appointment?
The study brandished by LinkedIn, exaggerated to say the least, is enough to make anyone smile. The sales people with the highest SSI have the most chances of being in the circle of the best sellers, of exceeding their quotas. A good SSI is a passport for an employee to become a manager, for a manager to become a director, for the latter to attain the status of Vice-President. No comment…
Will sellers soon be paid by the Tweet?
Beyond this very "American" discourse aimed at selling this "Social Selling" concept, LinkedIn and its competitors are putting forward some interesting arguments. The recent Social Selling Forum, held in Paris on 20th May 2016 at the MEDEF HQ, saw the emergence of several strong ideas. Social Selling appears like an area in which marketing and sales effort can finally converge efficiently. In this time of digital transformation, it was high time that these two departments finally spoke to each other! During the event, Guillaume Mikowski, co-founder of Brainsonic, tweeted that "The sellers who don't know how to use digital will be dead tomorrow." It's very true, yet the idea of turning sales people into influencers still seems so far removed from the reality of many companies. The high-tech sector, in which this kind of approach may make sense, still remains far ahead compared to the commercial practices of more traditional companies. Not all companies have the same margins as an IBM to have the luxury of training their employees to make them into brand ambassadors, or of giving them the time to create blogs and content on social networks. This represents a lot of effort and time to invest to hope, after several months, for hypothetical contact requests. It makes no sense to invest in this way if you sell construction materials and the day-to-day activities of your sales people involves visiting construction sites to see if the foreman has any urgent requirements in order to respect their deadline.

Towards an indispensable "Back to Basics" in sales
Social Selling incorporates many interesting mechanisms but, behind the buzzwords and the very self-centred vision of sales promoted by the social networks, some basic sales rules need to be reiterated. Any good seller knows that you have to be able to speak to the right person in the company, obviously, but you also have to do so at the right time. Who hasn't received via their Linkedin account requests from all kinds of coaches, estate agents or … plumbers? In the beginning, we shrug our shoulders, we reject these somewhat interested new "friends", and then we end up abandoning a social network that is of such low quality. Of course, everyone may need a good plumber one day, but it's all a question of timing. A builder who shares photos of their latest sites on the town's Facebook page is very astute; the plumber who replies to the request for help that you posted on this very same page is fantastic; but if one or the other wants to become your friend when you don't need either of them, that makes no sense.
Is it any different for B2B? Not really. You'd probably accept a LinkedIn connection request from the salesperson you had fun discussing the latest Manchester United/Chelsea match with at a tradeshow, but who wants to accept requests sent by unknown sales people and take the risk of seeing telephone harassment occurring on their social network?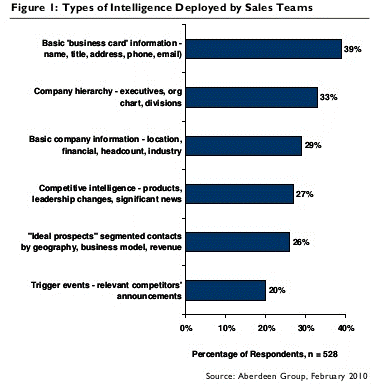 The important factor in sales is the context. You have to act at the appropriate time. Doing this certainly means monitoring social media but not just that. You have to be capable of compiling information from multiple sources, such as articles in economic publications or the general press, opinion pieces written by executives and published online, and discussion topics in professional forums. This is how a good sales person is going to be able to detect the opportunity of contacting a potential client. The focus needs to be more on Sales Intelligence than on Social Selling.
Discover an excerpt from the white paper: "How sales intelligence is transforming B2B sales"