Sometimes, if we talk about CRM to certain sales staff, it's as if we'd said a dirty word… We then hear phrases like:
"It's unwieldy and it takes ages to enter information; it's for really big companies, it's not for us…"
"It's management wanting to keep an eye on what we're doing again…"
"I don't have time to use a CRM system; I'm already snowed under with admin…"
"I hit my figures every month, we've always done it like that…I don't need a CRM system…"
…
However, the CRM tool should be popular among sales staff, since it enables them to become faster and more efficient…
What does this misunderstanding between sales staff and CRM stem from?
There are many possible reasons for this lack of enthusiasm. Sometimes, it may be that the solution is ill-suited to the departmental processes of a company; it could also merely be a question of poor communication with regard to how to use the solution. In fact, a CRM system is more than a simple traditional IT project; it is a human project, which requires a real change in how the company's sales staff work.
This is why, in this article, you are going to discover the most common reasons for sales staff being frustrated with their CRM system and, above all, the solutions to make them fall (back) in love with it.
Frustration N°1 — a bad experience with a previous CRM system or negative word of mouth…
Word of mouth is undoubtedly the number-one reason to resist the implementation and use of a CRM system. In the majority of cases, this bad experience comes from a CRM system that was poorly personalised or ill-suited to the company's business. In this context, the sales staff who had a bad experience are naturally going to be reluctant to use CRM.
=> Tip: You have to prove to the sales staff that their new CRM tool will help them, in practical terms, to increase their turnover and to gain time. The best way to do this is to ask one of the company's well-known and seasoned sales staff to do a presentation for their colleagues, recounting their typical day, with a "before / after", which highlights the benefits of the CRM system. In addition, you should always put yourself in the shoes of the sales staff when making a presentation. You have to show them what they are going to effectively gain with this product, and not simply present the CRM product to them in a "functional" manner, without thinking about the department and the requirements of the sales staff.
In particular, you really need to emphasize all the small daily tasks that are going to be simplified with the CRM system. For example, e-mails can be automatically archived in the contact's history from a smartphone, with implementation of reminders, etc.
Frustration N° 2 — the feeling of wasting one's time with a CRM system…
We need to be frank: yes, at the start, the CRM system is very time-consuming. This cannot be denied. In fact, initially, we have to "feed" the CRM system for it to assume its full scope. You have to start by importing your customers and leads database, creating your opportunities…because the CRM system is the salesperson's memory and memory aid. So, it does take time for the time that you have invested to produce this basic content to become useful again.
Note: take great care to enter data that is correct and complete… If your data is erroneous right from the start, then the sales staff will quickly lose motivation.
Like all training processes, it takes time to develop skills with the software. You should always highlight the time savings achieved, both for the sales staff and the company (marketing, management, etc.).
For example, instead of making sales forecasts on Excel, and then sending them to a sales assistant, everything will be done automatically from the software, avoiding reminder e-mails, files that are not updated… as much for the sales staff as for the assistant and for management.
=>Tip: It is important to explain why it is necessary to complete such elements, and how this is going to help the sales staff in practical terms, or how this is going to help the company grow the business. For example, by automating sales forecasts, by listing the customers to call back in the week, etc. The greatest effort consists of demonstrating, through factual elements (e.g. x hours saved, etc.), but also through emotional elements (e.g. no more stress or reminders, etc.). Be careful, nonetheless, not to present 20 different functions. To begin with, just 3 or 4 key and targeted functions should be presented. The CRM project manager can then gradually present the other functions during subsequent sales meetings.
Frustration N°3 — the CRM system should not just be a reporting tool…
This happens, particularly when the CRM system is conceived as a "reporting tool" for management, which replaces reporting via Excel files, or keeps an eye on what sales staff are doing. Yet, the CRM system should provide more added value to the salesperson in their daily work. To avoid this, you need to analyse the way in which the sales team works in order to automate the process. The CRM system will enable the sales staff to benefit from new gains in productivity and greater efficiency thanks to the new possibilities afforded by the management information system. For example, the automatic enrichment of contact and company files in the CRM system with a solution such as Sparklane (formerly Zebaz Smart Data).
So, the Sparklane solution automatically feeds the CRM system with new enriched information (e.g. new or closed-down companies, executive appointments, fund raising, product launches, etc.) to enhance your knowledge of your leads and clients. By identifying business signals thanks to company news, it lets you detect new business opportunities or to have a good reason to chase up a contact. This Sales Intelligence solution can be integrated into the main CRM systems on the market, and notably with Salesforce or Microsoft Dynamics.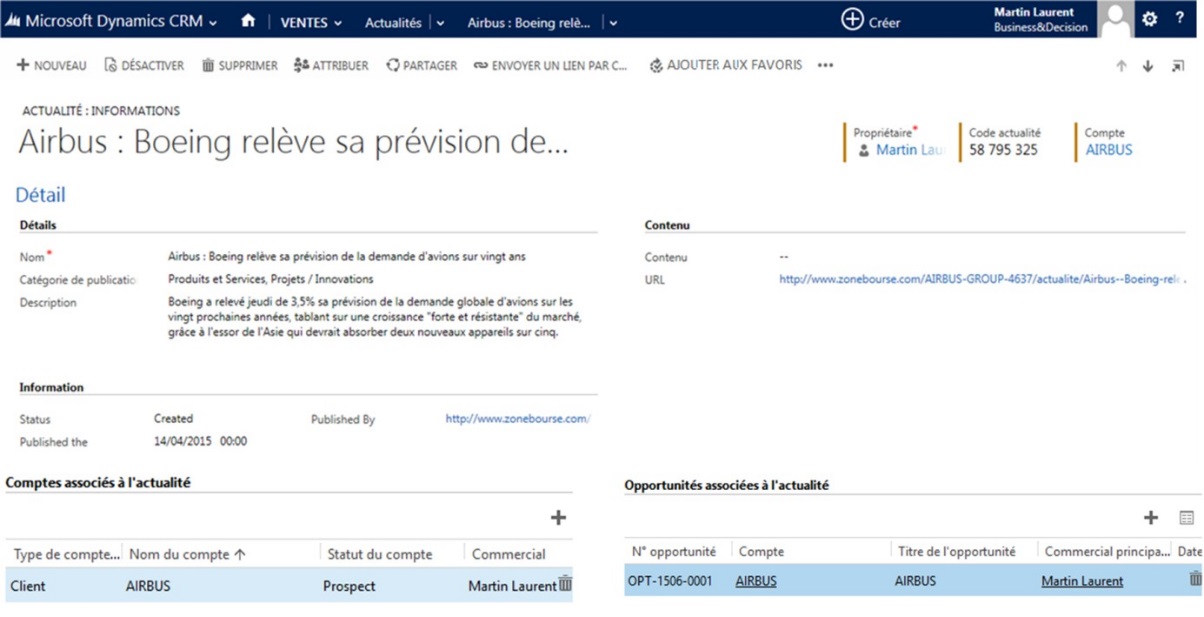 =>Tip: The best solution is to spend a day with a salesperson, and see how they work, what kind of information they have to enter into the system… Often, the gains in productivity are due to paper forms, e-mailings, etc., being replaced by IT processes. So, you need to identify these "bottlenecks" and see how to streamline them. In addition, you need to present the CRM system's "wow" functions. For example, 3 or 4 functions that will save them time (e.g. automatic forwarding of contacts from the website to the sales staff, etc.), or provide their work with a new dimension (e.g. integration of LinkedIn data into contact files, etc.) Finally, you need to plan 'booster shots' via training sessions over time.
Note: you shouldn't train everyone in the same way. Training the sales staff should thus be undertaken in a targeted manner, with regard to their business line, without wasting their time with other functional parts of the product which don't concern them or which are not suitable for their business processes. A common error is to train sales staff in the week the product is released and then to leave them to their own devices… Instead, you should plan continuous training (with an adviser in each department). Not only will this enable you to gain feedback on the CRM system, but, above all, you'll remind people of everything that can be done with the solution that has been put in place (note: in the absence of actual training sessions, the mailing of a weekly, then monthly, newsletter with tricks and tips, FAQs, etc. will allow you to dramatically improve adoption).

Frustration N°4 — not leaving the salesperson any leeway…
The CRM system is often considered as a constraint by the sales teams. In fact, before such a solution was put in place, the salesperson used to be able to do everything, more or less: create products, create contacts, sell the products they wanted, manage their diary… Yet, although this freedom enabled them to work fast, it was often synonymous with the company's difficulties in its capacity to develop, to reach higher levels of growth…
The CRM system automates and structures internal processes, which does not always go down well, particularly for the longest-serving sales staff, who were there when the company started.
Conversely, the CRM system has to be a tool to decentralise the power towards the sales staff. By enabling them, for example, to carry out their own e-mailing operations and send out e-mail with their own signatures…
=>Tip: You should always leave a little leeway for sales staff or managers in order to "ease" the process. For example, a manager may change the prices or rates… Thereby avoiding a system too strict that would become a straitjacket for the sales staff and also the "we can't do anything, it's the software that decides" syndrome
Frustration N°5 — not having considered the sales staff's needs in advance…
This is the most complicated problem to solve… In fact, not all CRM solutions are suitable for all companies. On the one hand, it is difficult to have a CRM system that is simple and powerful at the same time, because the management of complex business models almost systematically leads to a less user-friendly interface and a higher price.
Therefore, the choice of a low-cost or entry-level solution may prove to be impossible to put into place for a company.
On the other hand, certain applications natively have technical limitations and are not designed to address advanced needs.
The most common problems are, for example, offline mode when travelling, managing several currencies, managing an evolving pricing policy, contacts separated from companies, lead details separated from contacts, etc.
Finally, adapting certain CRM applications to the company's business requires very significant efforts in terms of configuration that are often very expensive (the company therefore makes choices that will have an impact on the use of the product), turning it into a pointlessly complex "CRM monster" which will be expensive and difficult to maintain.
=>Tip: The first reflex would be to list what we do in the company and to present one's business to the CRM software developer. In the event of a CRM replacement, you need to make a list of the current limits or shortcomings of the product, so as to present the current methods, and then see what needs to be improved. Still in the case of a CRM that is not suitable, instead of resetting everything to zero, sometimes it's better to go to see your CRM supplier to find out if the new version of the software addresses your requirements better (CRM software evolves very quickly!)…and if this is not the case, then you need to have a look around the market to see if there are any more suitable new solutions.
Note: be careful with restarting the project from zero, by making sure that all the functions already available in the current CRM system are included. Likewise, limit specific developments so as to enable the solution to evolve simply.
Frustration N°6 — a lack of an internal incentive policy…
Sometimes, non-use (or minimum use) is linked to an initial disappointment with the CRM (ill-suited product …), or a lack of involvement from general management, who are not imposing the use of the CRM.
Management must compulsorily support the project, be firm, and explain how the CRM solution is to be used to apply company strategy.
=>Tip: You have to relaunch the use of the CRM system. The first step to take is to offer a small present with the implementation of the CRM. For example, a new smart phone which will serve to "use" the CRM when travelling. You can also set up incentives for the sales staff to enter the CRM data (e.g. obtaining an e-mail fill rate of 80% of contacts for the sales staff, a competition to create new contacts in the CRM system from the business cards collected, etc.).
The coercive part consists in checking the use of the CRM system, for example, via a verification of connections and their duration, the integration of opportunities and their monitoring over time, the veracity of sales forecasts, etc. There should be no exceptions; it is vital that everyone uses the CRM system on a daily basis, even the high-performing sales staff.
Frustration N°7 — poor user-friendliness…
A CRM system should be designed to save time. If its daily use requires too much manipulation or if it is too slow, the user will quickly lose patience. To avoid this, you need to go back over the main principles of web ergonomics and go "click hunting". The most useful functions should be reachable within a maximum of 3 clicks.
Along the same lines, the loading time should be under 3 seconds; if this is not the case, then it's time to invest in a new server!
Another example is in the management of contacts and duplicates; the system should always offer to search for contacts before offering to create them — if not, look out for duplicates!
=>Tip: To hunt down pointless steps and clicks, you need to analyse the way in which the CRM system is used by two or three sales staff who are representative of the company's sales activity. The goal is to detect friction points, places where time is wasted and to create shortcuts, reduce manipulation, etc.
Note: be careful, nonetheless, not to address every single fanciful request from the sales staff either! They can sometimes request a function that they will ultimately never use…
To conclude…
Sales staff often complain about their CRM system. But these recriminations are often linked to a lack of knowledge of the product's capacities or a poor adaptation of the solution to the company's business. In addition, there is a human aspect and thus a necessity to communicate on the CRM system. The ins and outs need to be explained to the sales teams in order to demonstrate how it can help them to improve their results.
For example, one of the best ways to get your sales staff to love your CRM system is to involve them right from the start in the CRM selection and adaptation phase. In fact, the later you get the operational users of a CRM system involved, the higher the likelihood that it will not be suited to their requirements (or that they focus on micro-functions as a pretext to refuse change).
But it doesn't stop there: you have to put in place a "SCRUM"-type rollout, with mock-up presentations as the product is gradually developed.

One of the biggest mistakes is to present the CRM system to the sales staff only once it is almost finished (and the entire budget has been spent)… At this point, it is already too late to make major changes!
It is also crucial to take feedback into account and make any adjustments as quickly as possible, particularly in the launch phase. The product's weaknesses need to addressed as quickly as possible before the user teams become demotivated.
If the company follows these recommendations, then it will considerably facilitate its sales team's adoption of a CRM solution.